The IOPD will organise a webinar for International Day of Democracy: Local and regional governments facing the rise of distrust, polarisation and extremisms
Don't miss the session on 15 September 2023 15:00 - 17:00 CEST
The IOPD will hold on September 15 the webinar "Local and regional governments facing the rise of distrust, polarisation and extremisms" for the International Democracy Day. It will be a virtual session from 15:00 to 17:00 (CEST). You can now register through this link.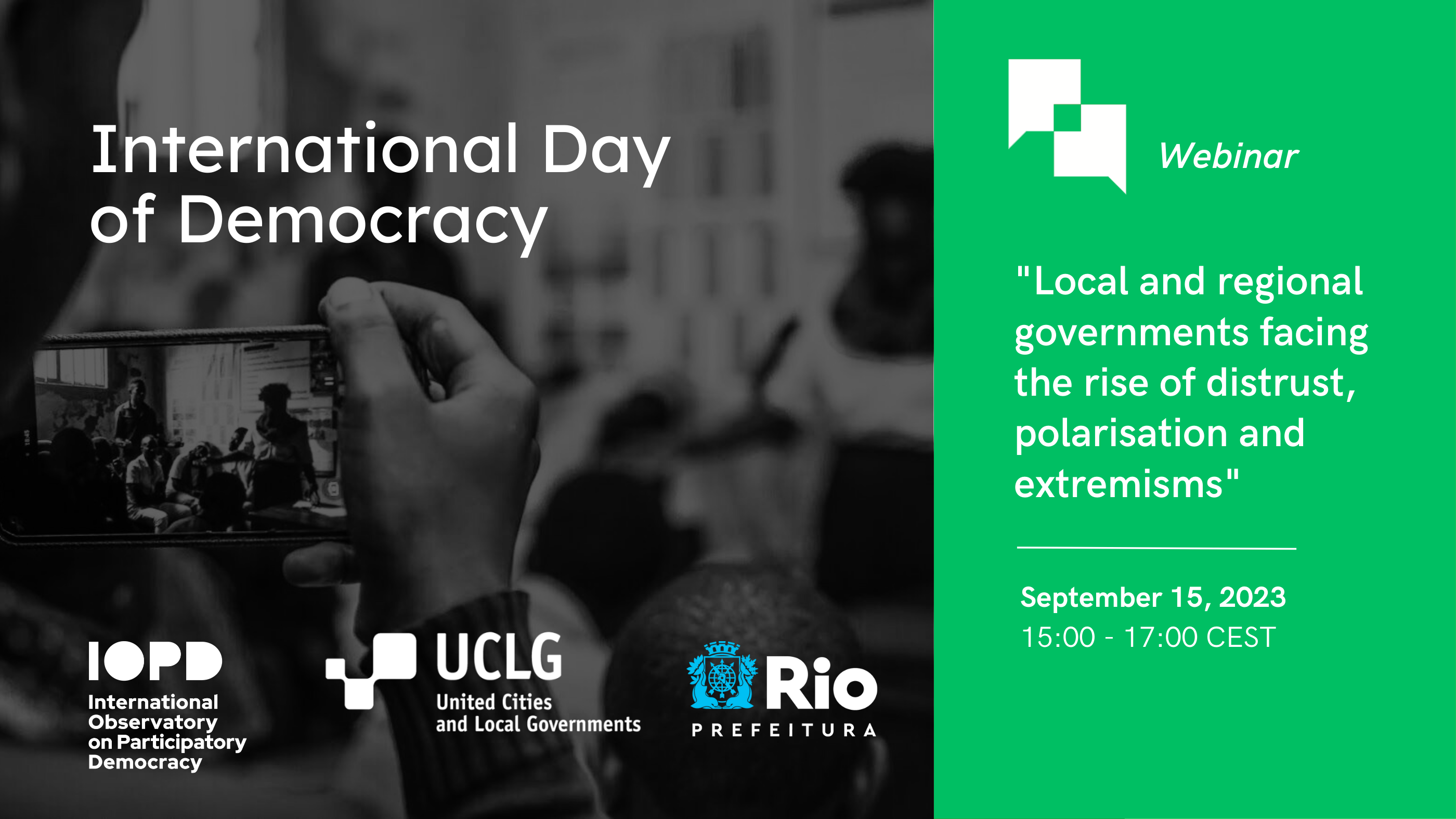 The objective of this session is to visualise how distrust towards institutions and among citizens is growing due to the rise of disinformation, fake news and polarisation, and how it impacts democracy. It also aims to present possible solutions through local participatory and deliberative democracy to address these challenges.
The erosion and crisis of democracy are evident in degraded public debate, increased human rights violations, declining trust in institutions, and societal polarisation. In response to this global context, the focus is on exploring solutions at the local level that can create national and global impacts through networked efforts. The proposed solutions include deliberative and participatory democracy, transparent and open governments, proximity policies by local governments, promotion of civic education and democratic culture, and the support of local, high-quality media to foster informed and measured debates.
To achieve this objective, we will offer a debate with experts worldwide, whose local and regional experiences and contributions will facilitate a guideline for elaborating a policy paper as a result of the session.
This webinar is part of the preparatory activities for the 22nd IOPD Conference to be held in Rio de Janeiro from November 6 to 8 with the theme "Participatory Democracy for Diverse, Inclusive and Transparent Cities." Furthermore, this webinar, which explores SDG 16 "Peace, justice and strong institutions", takes place in the run-up to the 2023 SDG Summit, with the aim of providing high-level political guidance for transformative and accelerated action to advance towards the 2030 Agenda.