Dundee Decides
United Kingdom

Dundee City Concil
Dundee Decides has £1.2 million to spend across the 8 wards in the city, decided by an online vote
Description
Dundee Decides is an opportunity to decide how Dundee City Council should spend the £1.2 million Community Infrastructure fund.
The fund will be used to make improvements based upon suggestions identified during the Engage Dundee Consultation.
Dundee has 8 electoral Wards: Strathmartine, Lochee, West End, Coldside, Maryfield, North East, East End and The Ferry. Each ward has been allocated up to £150,000 to spend on infrastructure improvements. If there are any funds left over after the winning projects have been selected, the remaining funds will be allocated to enhance the winning projects in each ward. Voting is open from 29th January to the 23rd March.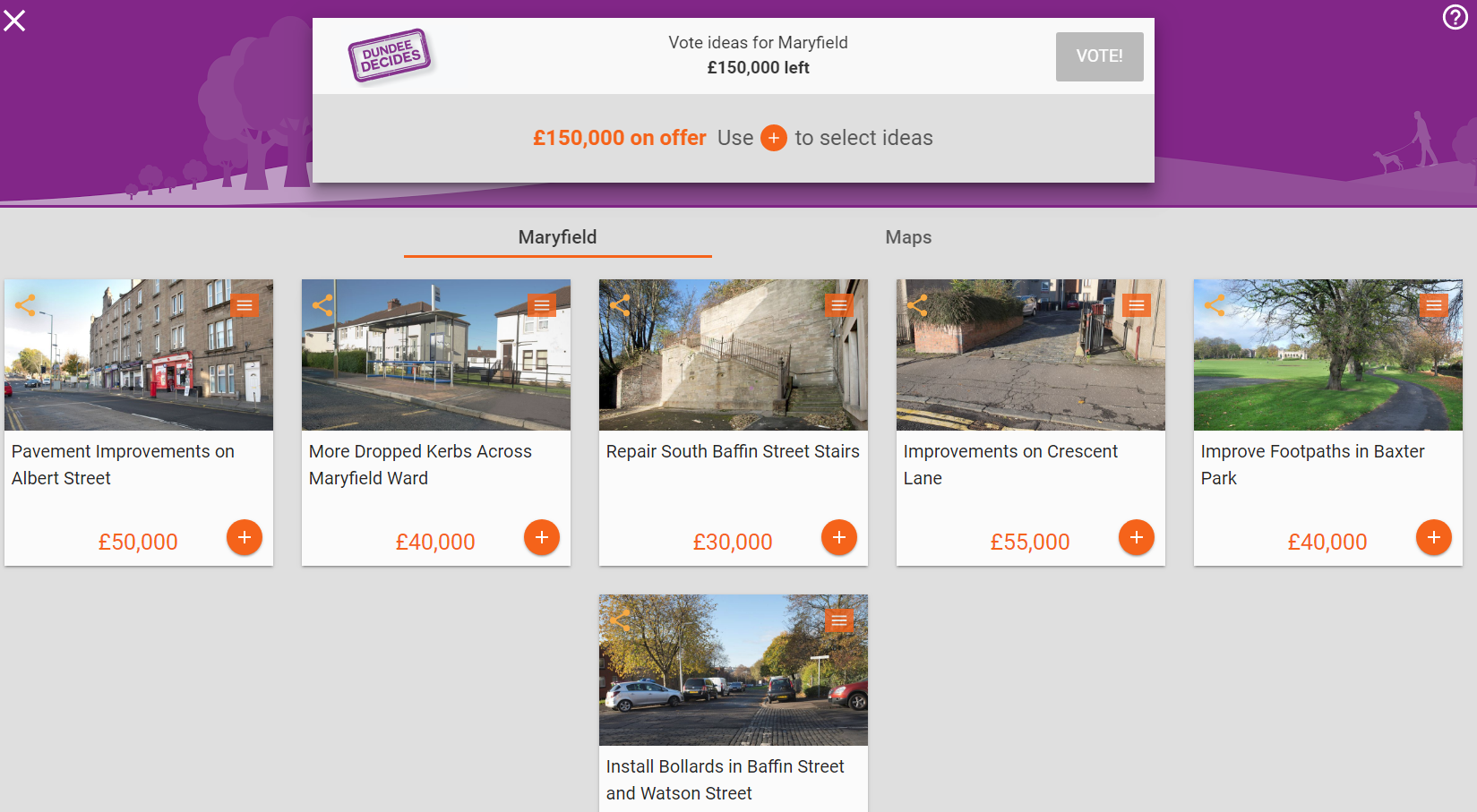 Who Can Vote?
Voting is open to everyone who lives in Dundee that is aged 11 or above.
People can only vote for ideas in the ward in which they live.
Votes will only be accepted if citizens enter a valid email address, a valid 6-digit postcode and confirm they are over the age of 11.
What security is in place to ensure the vote is fair?
The electronic voting system allows us to audit the voting process and identify suspicious voting activity and potential voter fraud, such as suspicious IP addresses, similar voting patterns in a short period of time, or the same device being used for multiple votes.
If any voting irregularities are discovered, Dundee City Council can decide to remove suspicious or possibly fraudulent votes from the result if they have had an impact on the final result.
All votes are encrypted and stored until voting ends on 23rd March 2018. Neither Dundee City Council, nor the Democratic Society, who are hosting the voting site, can access the votes until the "counting ceremony" which will be held after the 23rd March.
The ballot information is protected by two encryption passwords that are securely stored in separate locations. Votes can only be accessed and counted when the two passwords are entered together at the "counting ceremony".
Voting results will be published following the conclusion of the vote.
As part of Dundee Decides a number of community events will be held across the 8 wards in the city. The public events give a chance to chat with other residents from the community and Dundee City Council Workers about the projects in the difeferents areas where people lives. If citizens want a bit more help using the online voting system or do not have email they come along to these events for assistance in using vote.
Each event in each area will be different some have food, some are family fun and some are run alongside other community events. See below for what is happening in diferents areas.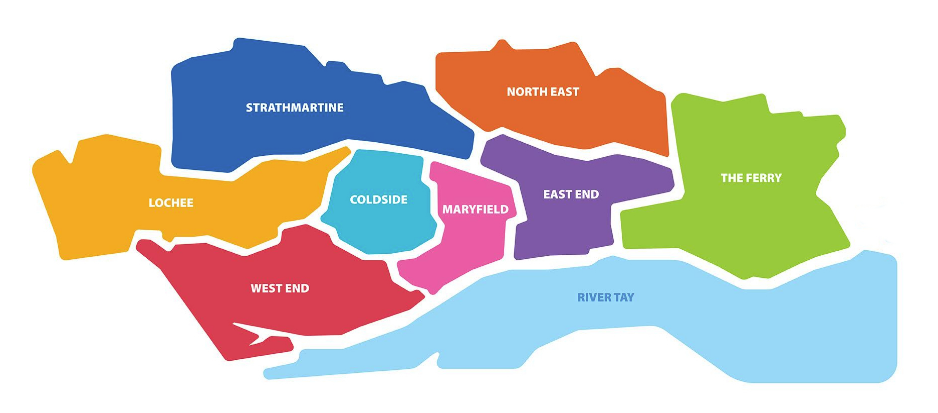 Coldside
Thursday 15th February, 5 pm to 8 pm, Five Ways Centre, 2-4 Caird Avenue, Dundee
Saturday 10th March, 10 am to 2 pm, Maxwell Centre, St Salvadors Halls, Carnegie Street, Dundee
East End
Saturday 3rd March, 11 am to 2 pm, Douglas Sports Centre, Baldovie Terrace, Dundee
Tuesday 6th March, 3 pm to 6 pm, Brooksbank Centre, Pitairlie Road, Dundee
The Ferry
Local events are being planned and organised in Broughty Ferry where people will get help to vote online if they need it.
Council staff will be present with electronic devices and able to support voting at the Broughty in Bloom Snowdrop Coffee Morning in Barnhill Community Centre, Campfield shops from 10am to 12 noon on Saturday 24th February.
Support to vote will also be available in Grove Academy from 12.30pm to 3pm on the same day.
Lochee
Saturday 17th March, to be confirmed
Maryfield
Thursay 8th March, 4 pm to 7 pm, Arthurstone Community Library, Arthurstone Terrace, Dundee
North East
Wednesday 28th February, 3 pm to 6 pm, Finmill Centre, Findcastle Street, Dundee
Saturday 10th March, 11 am to 2 pm, The Crescent, Lothian Crescent, Whitfield, Dundee
Strathmartine
Friday 23rd February, 4 pm to 6 pm, Kirkton Community Centre, Derwent Avenue, Dundee
West End
Monday 26th February, 2 pm to 6 pm, Blackness Library, Blackness Avenue, Dundee