After the first national Participatory Budgeting was a success, every citizens can participate to "My Budget" proposing projetcs for the 2020 national budget.
Objectives
For the second time, South Korea is experimenting a national Participatory Budgeting as part of its official national budget.
Description
Participatory budgeting is used in many cities of the Republic of Korea. However, the Ministry of Economy and Finance implemented in 2018, for the 2019 budget, a National Participatory Budgeting (PB) named "My Budget".
Any citizen is welcome to propose PB projects via the Internet, by mail, or in person. Ministries then review the proposals and transfer a list of projects to a Citizen's Committee of 400 representatives participants that must discuss the propositions made. This Citizen's Committee is meeting four times and is helped by a group of 68 experts. The Citizen's Committee must finally vote for PB projects that will be submitted to the National Assembly. The 400 panel participants are not the only one to vote, 2000 people can vote online.
For the 2020 "My Budget", the Ministry received over 1399 projects and 38 have been added to the final 2020 Budget. The projects mainly came under 4 topics: youth unemployment; Childcare support; Support program for Small-business and self-employed and support for socially marginalized.
As well as the public interest and participation, the budget granted for the 2020 "My Budget" was 224 million of dollars, it has been increased of 70% in comparison with last year budget.
An insight on Close-up on life projects adopted concern public safety with seismic performance evaluation and improvement; employment with the creation of a youth Center for career exploration program; environment with the distribution of food garbage processing equipment.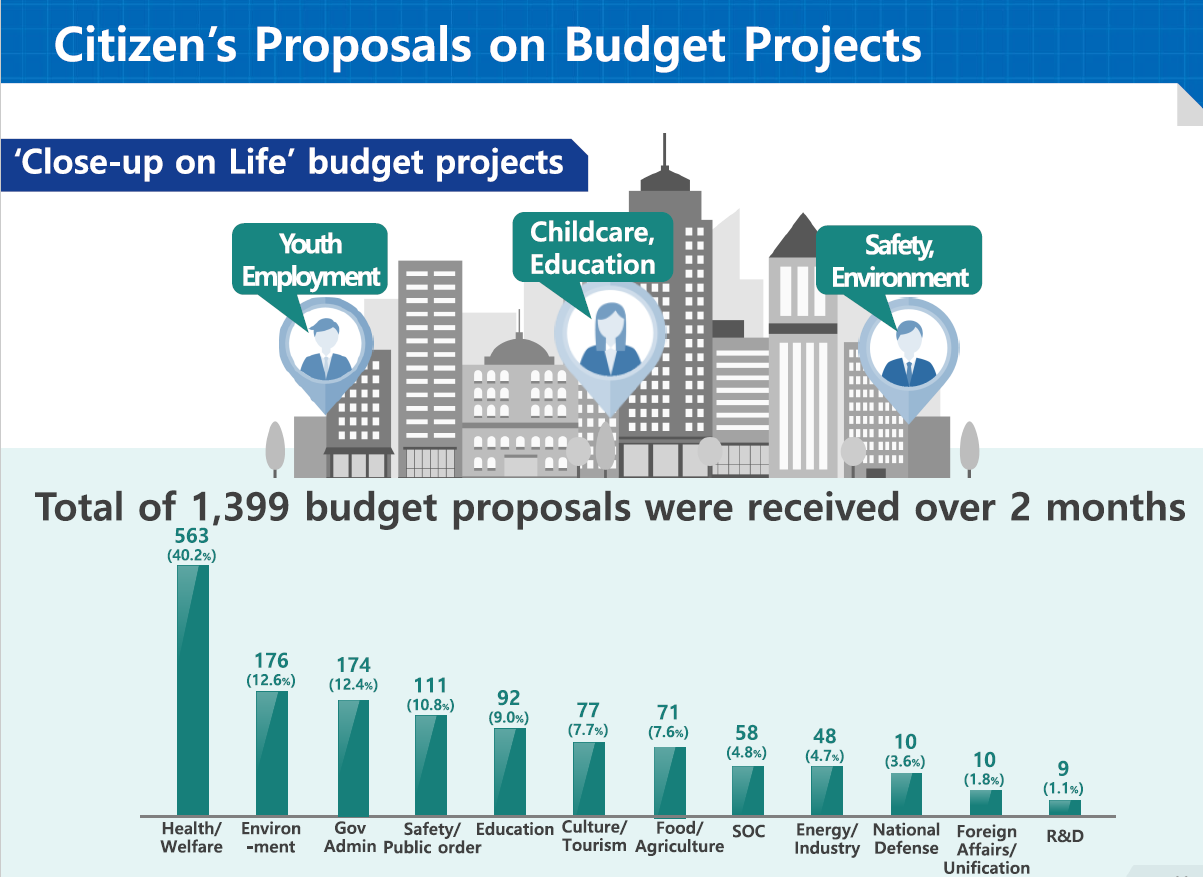 The national expansion of PB process in South Korea offers a bottom-up approach that strengthen citizens' role of control and bring about a collaborative governance. It also makes Citizens think about their role re-define it in the decision-making process.
More information: