From May 2020 to September 2020, the government of the French region of Grand-Est is undertaking a wide participatory and consultation programme so as to decide the regions' priorities for the future, especially regarding the ecological transition.
Objectives
This initiative seeks to identify the expectations and feelings of citizens' towards the future in a variety of fields in order to take them into consideration in the construction of public policies. By collecting citizens' ideas, comments, opinions and contributions—and responding to them—the region will set its priorities for action in the future.
Participants
Any inhabitant of the region can has the right to take part in the process, regardless of their legal status. The online platform also accepts suggestions or proposals from institutions, NGOs and private companies.
Description
Before the COVID-19 crisis, the Grand-Est region in France had designed a comprehensive participatory programme for its citizens to decide the future of the region. This process, named Ma Région Demain (French for "My Region Tomorrow") was aimed a tackling issues like mobility, health, environment, food, digitalisation, youth. In general, the region wants to be more attractive, livable and sustainable. The priority walking towards sustainability: "The ecological transition cannot be undertaken without the citizens", stated the president of the region.
When the coronavirus pandemic reached Europe, Grand-Est was one of the most affected regions in France. In this context, without leaving aside the wider frame, this consultation process will also focus on the response to the crisis and public health policy in general. It startat the 5th May and willlast until 30th September.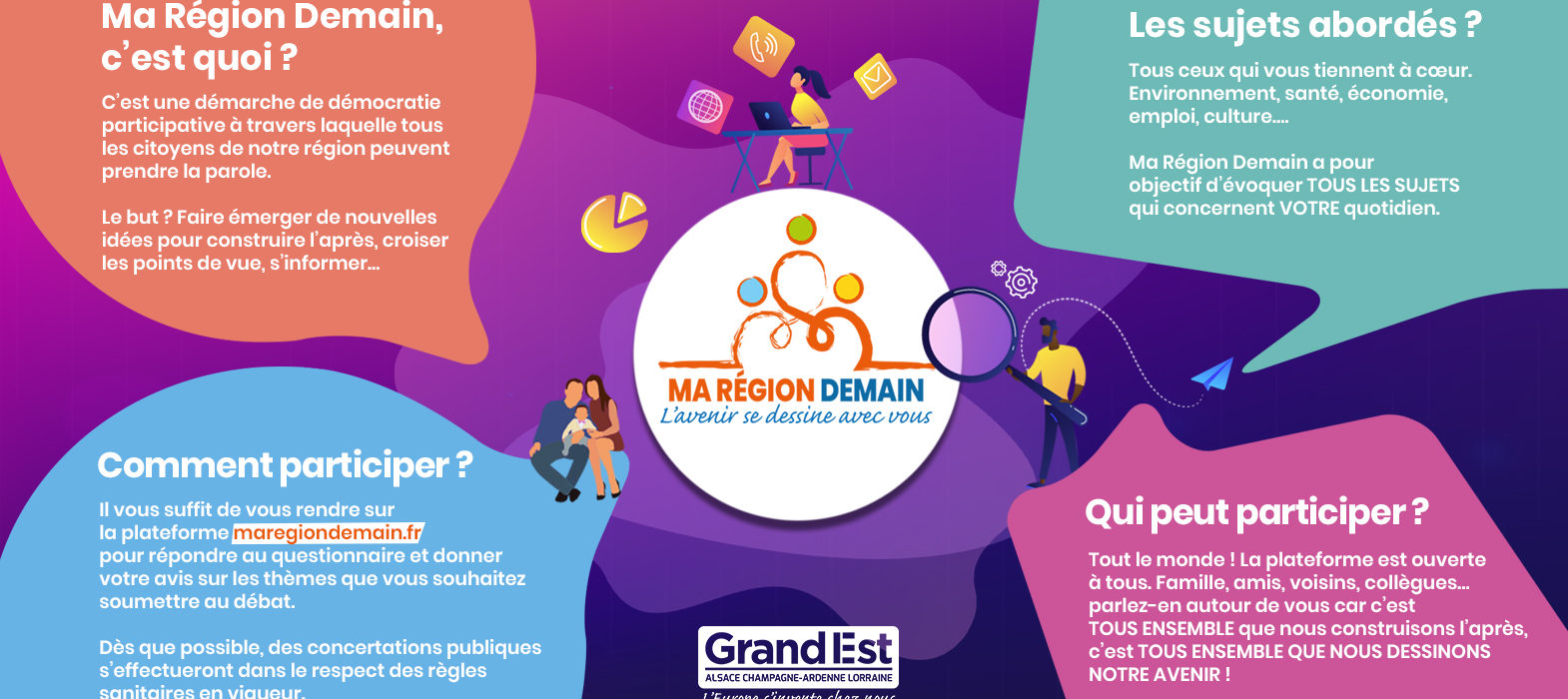 So as to gather the opinions of the citizenry, the project involves workshops, public debates and a website to post thoughts, ideas and proposals. In the context of the pandemic, the project has therefore been launched to rely on the online platform (maregiondemain.fr) until social distancing measures allow other types of public consultation to take place. This consultation space allows citizens to post, comment and vote proposals. The government will respond to the most voted ones. Furthermore, authorities will provide a meeting of those who submitted the more successful proposals with an elected responsible of the concerned field.
Besides the space for proposals, the platform has also enabled the survey " La crise et vous " to gather information of the ways in which the coronavirus crisis is affecting every inhabitant of the different departments of the region as well as their perspective towards the future. The region will summarise the feedback and share the conclusions.
Official message of the President of Grand-Est:
More information: