The Vancouver Park Board encourages citizens to contribute to a just and sustainable local food system through its network of parks, facilities, programs, and community connections.
Description
Background
The Vancouver Board of Parks and Recreation, commonly referred to as the Vancouver Park Board, is the elected board with exclusive possession, jurisdiction and control over public parks in Vancouver, British Columbia, Canada.
In 2013, the Park Board adopted a 5-year Local Food Action Plan with the aim to become a leader in supporting and growing local, sustainable food. The plan was developed by a Task Force including staff, community leaders, community organizations, and advisory councils. The plan had 4 priorities, 8 goals and 55 actions.
With many of the actions achieved and a need to integrate emerging priorities, the plan is being updated. Park Board VanPlay directions to 1) deliver services equitably, 2) welcome everyone, and 3) weave the city together, will guide the update with an emphasis on:
Assessing current food assets and services
Allocating resources and reducing barriers to currently underserved communities
Addressing what was learned during the COVID-19 pandemic
Building community resilience and mitigating the effects of climate change
Decolonizing food asset and service provision and supporting Indigenous food systems
Consultation timeline
The Municipality team has opened a public consultation through "Shape Your City" the online platform for Vancouver residents to share ideas and feedback with the City.
Phase 1: Research and assessment
October to December 2020
Staff review feedback received since the 2013 plan and assess current food assets, services, trends, needs and opportunities.
Phase 2: Community engagement 1
November 12, 2020 to February 4, 2021
Community shares input through a survey, virtual public engagement and stakeholder meetings
Phase 3: Draft 1 of the update
Early Spring 2021
A first draft of the updated Local Food Action Plan is written
Phase 4: Community engagement 2
Spring 2021
Community gives feedback on the first draft of the updated plan
Phase 5: Presentation to the Park Board
Late-Spring 2021
The plan is updated based on community and staff input and presented to the Park Board for approval.
Final report
The final outcomes of the consultation are documented here. This may include a summary of all contributions collected as well as recommendations for future action.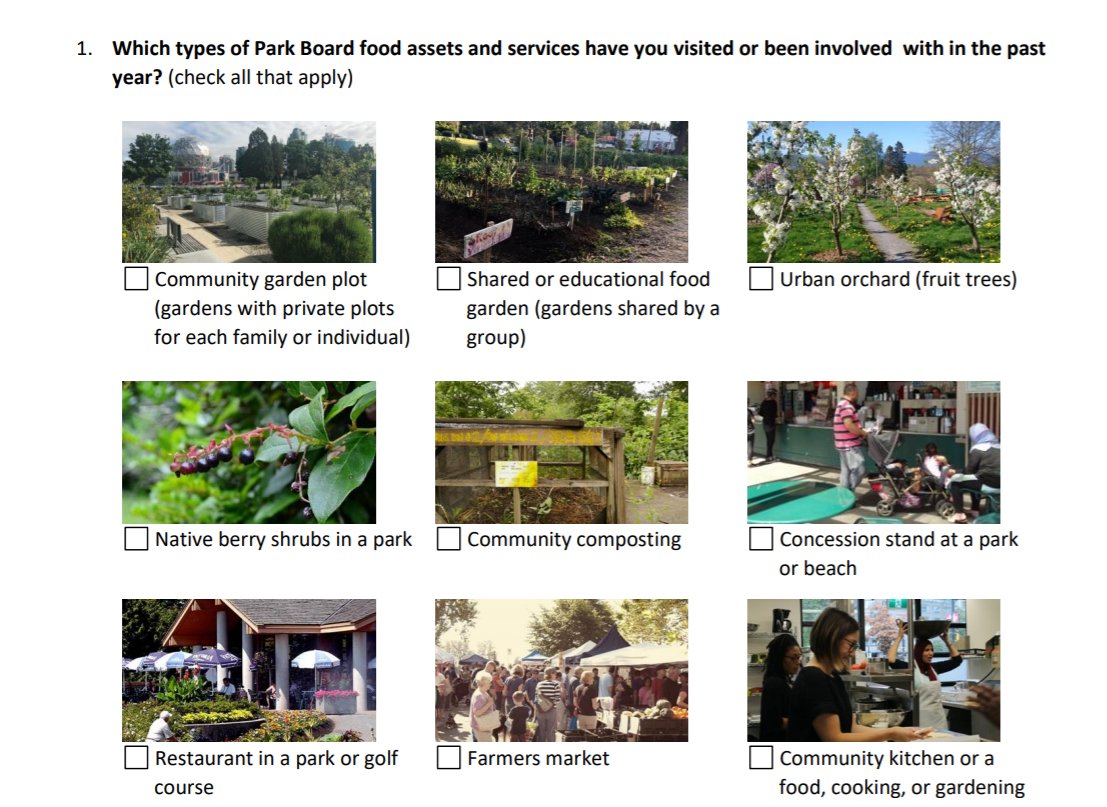 The survey forms were available in English and also in Mandarin Chinese and Punjabi, the languages of two important communities living in Vancouver.
Sources
Consultation on ShapeYourCity platform
Vancouver Park Board Local Food Action Plan Update Survey
2013 Local Food Action Plan
VanPlay: Vancouver's Parks and Recreation Services Master Plan
Grandview Woodland Food Connection information on the consultation process