Live Learning Experience on Local Democracy
On Thursday, 18th June (15:00 - 17:00 CEST) takes place the Live Learning Experience on Local Democracy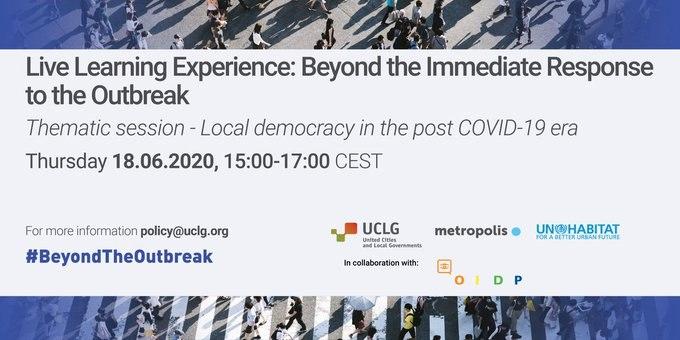 UCLG, together with METROPOLIS, UN-HABITAT in collaboration with IOPD hold a session devoted to local democracy, on Thursday, 18th June between 15:00 and 17:00 CEST (GMT+2). The session will tackle the impact of the pandemic on local democracies from different perspectives, such as human rights and the risk of recentralisation or authoritarianism. Besides, there will be room for listening to cities' and organisations' voices, as they strive for strengthening and enhancing democracy.
This session takes place in the framework of the Live Learning Experience organised by UCLG, Metropolis and UN-Habitat. You may find the full list of previous Live Learning Experiences, their recordings and relevant documents here.
The session will be attended by mayors, local elected officials and experts worldwide. Among them, the Live Learning Experience counts with the participation of Clara Brugada (Iztapalapa), Laia Bonet (Barcelona), Camilo Romero (Nariño), Johnny Araya (San Jose) and Thembisile Nkadimeng (Polokwane).
You may here find the concept note of the session.