2021 International Observatory on Participatory Democracy (IOPD) Conference
---
Virtual sessions November 29 - December 2
---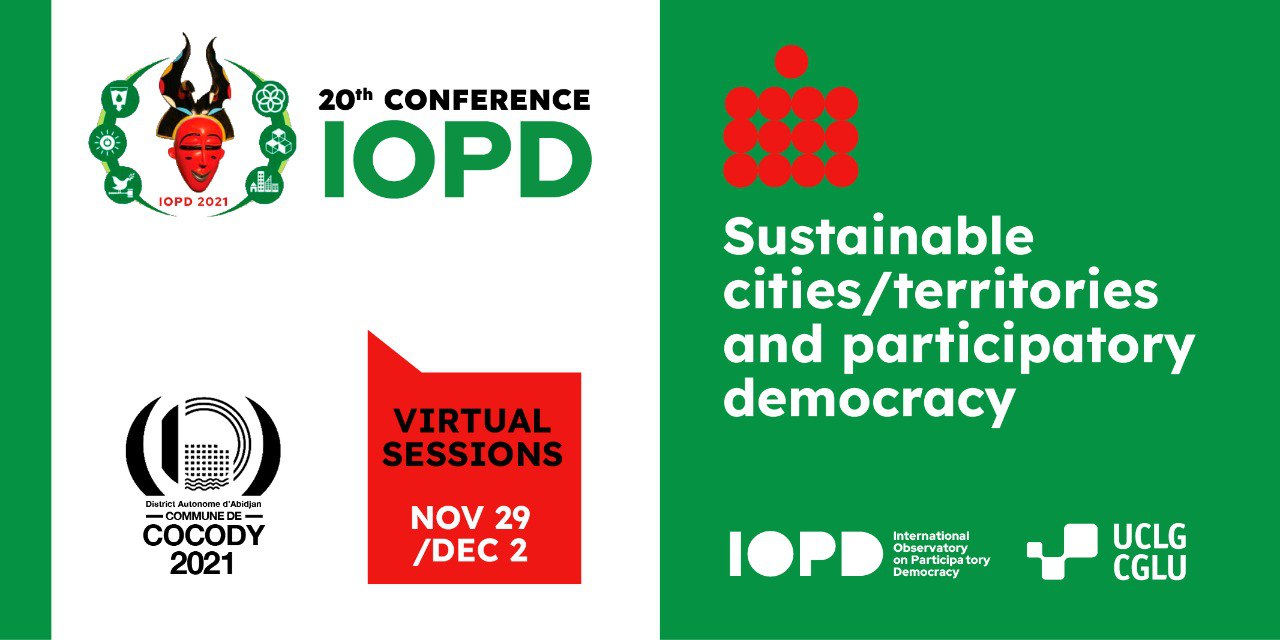 The 2021 IOPD Conference will take place in Abidjan (Côte d'Ivoire) from 20 to 22 October organised by the Municipality of Cocody. In order to ensure greater participation of the membership from cities around the world, in a context where international travel is not always allowed, a number of virtual sessions will be organised covering the thematic priorities of the network in collaboration with United Cities and Local Governments (UCLG).

Dates of the virtual sessions: November 29 & 30 and December 1&2

2 hour sessions through Zoom Platform with translation in English/French/Spanish
Citizen Participation in Ecological Transformation
November 29, 15h00-17h00 CET
Local governments must play a key and pioneering role in the ecological transformation of our societies, and citizens cannot be only spectators in this process. In this session we want to share experiences and the steps to follow in order to foster government-citizen dialogue and the co-creation of solutions for the ecological transition. This theme will be central to the IOPD 2022 Conference, so it can be seen as a pre-session to the next global meeting.
Discover our work on this thematic area
Revisiting local democracy
November 30, 15h00-17h00 CET
Session coordinated by the UCLG Committee of Social Inclusion, Participatory Democracy and Human Rights.
This session will explore recent innovations and outcomes produced in the last decade, where local governments have led a wave of transformation through their interaction with social movements and urban struggles. Indeed, new mechanisms have been established to better represent residents' demands and expand the horizons of local democracy towards real co-creation of cities. Many of these innovations have been spearheaded by the feminist movement, which brought forward new approaches to caring and social organizing.
Municipalism, social movements and feminist approaches
December 1, 15h00-17h00 CET
The global feminist municipalist movement is a key building block of a better normality towards a renewed local democracy. We want to open this space for dialogue where strategies for deploying feminism and participatory democracy in local politics converge. Elected representatives will be invited to share about the relationship between feminism and participatory democracy and their experiences in incorporating a gender perspective in the practices of citizen participation.
UCLG and the Municipal Feminist Movement commit to Generational Equality
IOPD General Assembly
December 2, 15h00-17h00 CET
The IOPD General Assembly is the meeting of the network membership where management reports are presented, the new work plan is adopted, and the new leadership and strategies of the network are approved. The baton will be passed from Cocody to Grenoble which will host the conference in 2022.