2021 International Observatory on Participatory Democracy (IOPD) Conference
---
Virtual sessions November 29 - December 2
---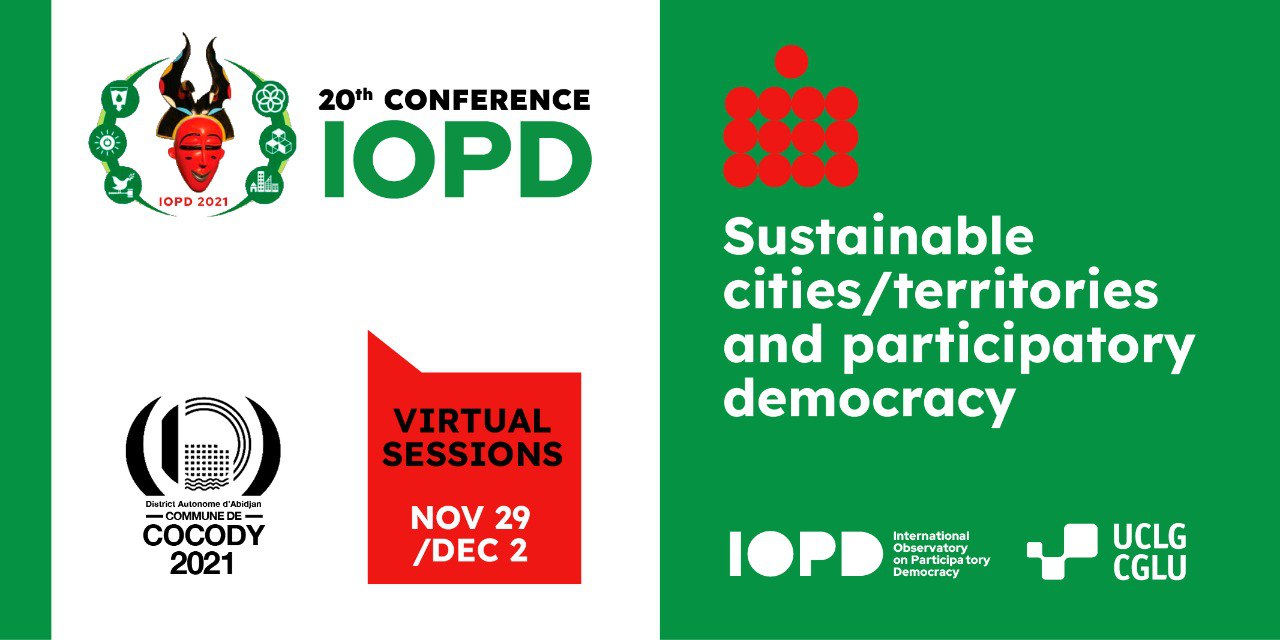 Revisiting local democracy
November 30, 15h00-17h00 CET
The impact of the pandemic on democratic institutions and procedures has added to the problems and crises already being felt by democracies. In various sessions throughout these months we have been sharing and thinking about how to strengthen democracy in the risks it faces: live learning session, Cities Are Listening, preparatory session for the contribution to the Gold report or preparatory session for the UCLG Forum of Intermediary Cities. In this new session we want to think about ways to revitalise local democracy such as citizens' assemblies or other forms of deliberation by lottery, online participation tools and the debate around digital rights or the importance of generating an inclusive concept of citizenship.
The outcomes of the session will allow us to enhance our knowledge on the state of local democracy around the world, and develop new ways of thinking about citizen participation, as part and parcel of the renewal of the social contract. The discussions are set to contribute to the pact for the future and align with the UNSG's Our Common Agenda by protecting and enhancing democracy from the bottom-up
Guiding questions
What is the role of local governments in promoting and defending democracy?
What are the opportunities and challenges for democracy at the local level?
Which initiatives can be deployed at local and territorial level to promote dialogue, deliberation and co-creation?
How can local governments promote inclusive citizenship, peaceful democratic debate and the defense of human rights?
Agenda
Panel 1
Moderator: Diego Fernández, Grenoble's Director for Local Democracy
Marc Serra, Councillor for Citizens' Rights and Participation of Barcelona
José Manuel Ribeiro, Mayor of Valongo
Med Wajdi Aydi, Councillor of Sfax
Camille Choplin, Councillor of the City of Bordeaux
Céline Papin, Bordeaux Métropole
Claudia Andrea García Loboguerrero, Director of Planning Gobierno de Antioquia
Chang, Hui-Hsin, Social Welfare Department, New Taipei City Government
Panel 2
Moderator: Adrià Duarte, IOPD coordinator
Linda Voortman, co-mayor of Utrecht, Co-President UCLG CISDP Committee
Jonathan Moskovic, advisor on democratic innovation to the French-speaking Parliament in Brussels
Alexander Reina, director of citizen participation of Bogotá
Juan Speroni Hernández, Director General of Citizen Participation and Proximity of the Government of the Autonomous City of Buenos Aires
Miguel Cánaves, Open Government Director and Macarena Raya, General coordinator for citizen participation Rosario
Joseph Tchinda-Kenfo, responsible for mobilisation OCPM Montreal
Ieva Cesnulaityte, OCDE
Katey Tabner, Policy Manager - Participatory Budgeting at COSLA
Hanne Bastiaensen, Country Manager Benelux Democratic Society
Speakers presentations