Revisiting local democracy, a challenge for local governments
This session was held on November 30, 2021 in the framework of the virtual sessions of the 20th IOPD Conference
On 30th November 2021, the International Observatory on Participatory Democracy (IOPD) and United Cities and Local Governments (UCLG) organised the session "Revisiting Local Democracy" as part of the virtual sessions of the 20th IOPD conference. This session addressed how to strengthen democracy in the face of the risks and challenges it currently faces. The session also aimed to address the opportunities for local and regional governments to promote local democracy.
The session, which focused on sharing different local and regional practices worldwide to revitalise local democracy, was organised in two panels:
The first one was moderated by Diego Fernández, director of local democracy at the City of Grenoble, and the speakers were : Marc Serra, councilor for citizen's rights and participation of Barcelona, José Manuel Ribeiro, mayor of Valongo, Med Wajdi Aydi, councilor of Sfax, Camille Choplin, councilor in charge of permanent democracy in Bordeaux, Céline Papin vice president of Bordeaux Métropole, Claudia Andrea García Loboguerrero, director of planning of the Antioquia Region, and Chang, Hui-Hsin, from the Department of Social Welfare, Government of the City of New Taipei.
The second panel, moderated by Adrià Duarte, IOPD coordinator, was attended by Linda Voortman, co-mayor of Utrecht and co-chair of UCLG's CISDP Committee, Jonathan Moskovic, advisor on democratic innovation to the French-speaking Parliament in Brussels, Ana María Almario, Deputy Director for the IDPAC Bogotá, Juan Speroni Hernández, general director of citizen participation and proximity of the City of Buenos Aires, Joseph Tchinda-Kenfo, Head of Mobilisation at OCPM Montreal, Ieva Cesnulaityte, Open Government Policy Analyst at OECD, Katey Tabner, Head of the Participatory Budget Programme at COSLA, Hanne Bastiaensen, country manager Benelux at Democratic Society, Macarena Raya, general coordinator of citizen participation of Rosario, and Miguel Cánaves, Open Government director at Rosario municipality.
In his opening remarks, Marc Serra shared the experience of the Youth Forum, a project of deliberative assemblies by lot in the city of Barcelona that seeks to debate issues related to young people and that try to give them a voice to express their concerns and priorities. 99 young people were selected from the census, representing the different social categories of the youth in the city. This system made it possible to reach young people that are less involved in the social fabric of the city and the lottery made it possible to control the socio-demographic profiles by giving greater visibility to diversity (gender, education, origin).
"Today, new priorities are emerging: mental health, education and empowerment", he added. In order to succeed in taking difficult or unpopular decisions, or those that involve renouncing , "we can take decisions out of the party system and submit them to citizens, without the pressure of the institutional system".
José Manuel Ribeiro, wanted to point out how many local governments mobilise their citizens, through different mechanisms, and brought to light the need to blur the dichotomy between representative and participatory democracy. "If we are not afraid to open the door to participation, the strong energy of citizens and communities can be used". The mayor wanted to draw attention to the caution in using citizens' assemblies: "It is important to understand the relationship between these processes and the way they represent democracy". The mayor argued that these mechanisms do not have the same legitimacy as elected assemblies and this can impact on local democracy if there are tensions between elected officials and these assemblies. "The difference between their legitimacy goes back to the old question of representative and participatory democracy, which suffer from each other, like real twins'' .
Med Wajdi Aydi argued that "democracy is linked to local governance and decentralisation, it is impossible to talk about democracy without these two factors. Cities have a role to play in the defence of democracy, they must protect it". Med Wajdi Aydi wanted to point out how, today, Tunisian cities are implementing new participatory practices such as cooperation between local actors, promotion of a new culture of human rights, etc. However, "10 years ago, this did not exist, we were living in a dictatorship: local democracy is therefore the first line of democracy". He noted that the persistence of anti-democratic forces remains a great threat. Before achieving democratic stability, it is necessary to recognise those cities, like Sfax, which are in a period of transition trying to build and safeguard democracy. "Cooperation between local actors is difficult, because of the conditions in which we live, but we remain committed to defending human rights, including migrants, vulnerable groups, etc."
Camille Choplin underlined the notion of permanent democracy which implies the integration of citizens in the construction of public policies, "this was our third priority, after the ecological transition and social justice: two axes that depend on democracy". She spoke about the mobile parliament, a wooden agora, built to meet the inhabitants in the neighbourhoods, to take stock of the situations and identify their needs. This format made it possible to reach out to the inhabitants, adults, children and teenagers, and to avoid the distance between inhabitants and elected representatives, who were therefore all on the same level. She presented two dynamics that have been put in place in addition to the electoral process every 6 years: the democracy of doing, based on citizens' initiatives, and the citizen dialogue, a more top-down approach (the city goes to the inhabitants to inform them). "We are in constant dialogue with the inhabitants, we are in the process of drawing up the democratic contract of Bordeaux", she concluded.
Céline Papin explained how the city and the metropolis of Bordeaux, being two different levels of government, are led to organise mechanisms of citizen participation, according to different logics: the city plays more in a framework of proximity, and the metropolis intervenes on important issues such as waste, water management, urban planning, etc. She presented the main principles such as: the use of guarantors for certain decisions, presenting alternative analyses for certain projects, etc. "We want to systematise these principles. One in particular is important to us: accountability, feedback to the citizens. We want to develop a culture of participation, via an urban school directed at the youngest age, for a better understanding and participation in public policies. We want to articulate the municipal-metropolitan levels in a complementary way''. A network of elected representatives at the metropolitan level has been initiated to share tools, experiences, questions, etc. in order to be able to constantly innovate. Finally, she concluded that "more and more projects at metropolitan level have impacts on neighbouring territories, and decisions are taken without consultation".
Claudia Andrea García Loboguerrero, explained how the government of Antioquia is developing a strategic plan, the Agenda for 2040, through dialogue with citizens. "Dialogue allows us to better understand the social demands and the future of the region. Antioquia is committed to building a social dialogue and planning is based on social needs''. She explained that the local government has the role of listening to the voices that are most peripheral: victims of the conflict, women, Afro-descendants, indigenous people: as part of this work, all the towns in Antioquia have been visited and "nomadic agoras" have been organised, creating temporary spaces for participation. The plan focuses on equity, culture and identity, climate regeneration, competitiveness, governance. She stressed the importance of the territorialisation of the agendas. "Every territory has a goal. It is important to be understood in the territory, but also to listen". She stressed the importance of dialogue between the region and local governments to generate positive impacts that add up.
Chang Hui-Hsin explained how the New Taipei City Government has introduced strategies for participatory mechanisms. Participatory budgets are promoted by each department, according to their responsibilities. "We try to understand the needs of citizens. We work to propose social projects. We have developed promotion strategies for a better understanding of these projects and some are dedicated to local social workers". She concluded with a presentation of the different stages of these promotional strategies, aiming to implement 19 projects.
Before ending the first panel, the floor has been opened to the participants. Marc Serra pointed out the heterogeneity of the projects presented, all of them united by a common element: the need, in times of social, environmental and democratic crisis, to reinvent the mechanisms and processes of participation, through various strategies and tools.
Diego Fernandez observed that democracy is exercised continuously, and through renewed means to encourage participation. As shown by the cities of Barcelona and Sfax, it is necessary to respond to specific needs and contexts. As the elected representatives of Bordeaux reminded, this implies changes in posture and adaptation at different scales. In Antioquia and New Taipei, this also implies the articulation of different participation mechanisms, based on their complementarity.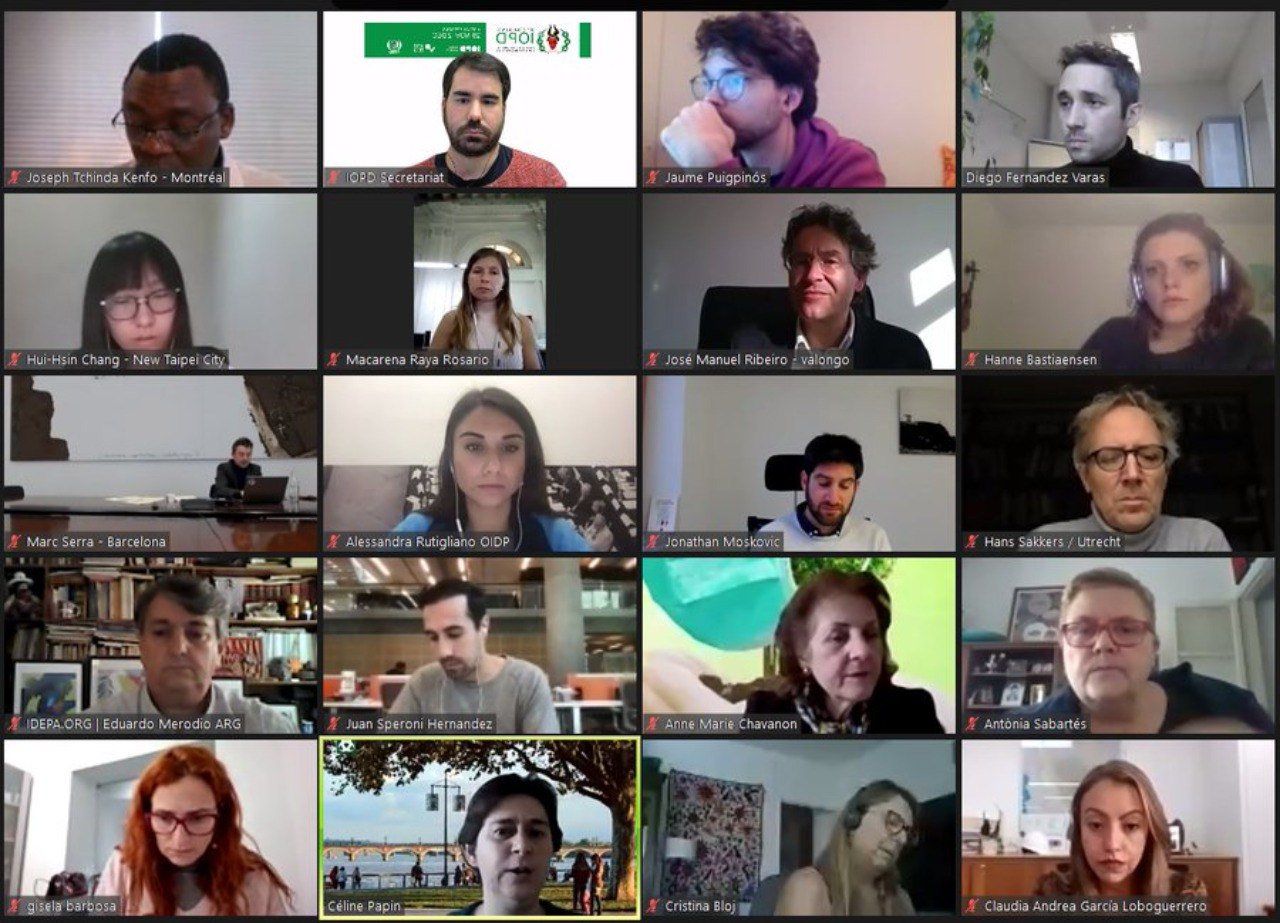 The second panel was moderated by Adrià Duarte who, in his opening remarks, proposed to reflect on how to move forward in developing participatory democracy practices.
Linda Voortman stated that "democracy is about making decisions with others. In our daily interaction it is about how to use and share public spaces and how to care for others". She stressed the importance of involving people in decision-making on everyday issues, to avoid the risk of falling into a technocratic understanding of democracy. "We need to emphasise the concept of shared responsibility, to involve everyone in the running of our common institutions. We also need to develop new forms of democratic self-organisation''. She illustrated a process in Utrecht: an urban conversation on energy, through a process of selecting inhabitants by lottery with financial remuneration, the results of which were received by the city council. 200 citizens were randomly selected for this deliberation. Linda Voortman also explained how during the pandemic there was a development of digital participation, all participation processes in Utrecht were centred on a single platform that reached more participants than just physical events and attracted more young people. "The mechanisms of participatory democracy have thus become more capable of reflecting diversity. It is important to demystify politics, public engagement is positive, especially if it raises awareness of the diversity of opinions''.
Jonathan Moskovic presented the deliberative committees project of the Francophone Parliament of Brussels. Instead of launching ad hoc citizens' assemblies, mixed citizens' commissions were set up, composed of elected officials and citizens. It is the first parliament in the world to have launched this type of committee, in which citizens can propose a theme via the web platform, the parliament can then convene a deliberative committee, people can register and then there is a draw to have a committee representative of Brussels society. The follow-up of the recommendations has been integrated in the design of the process: 6 or 9 months later, citizens are invited again to participate in the follow-up of the implementation of the recommendations. "We work with parliamentarians to get out of the they/we logic and co-construct the recommendations, and make sure that they are not seen as an external graft, but that they are integrated''. Participation is remunerated, the participation of women-mothers is facilitated, there is the inclusion of people who speak other languages and a launch of citizenship leave, along the lines of how juries work, so that people can come during the week, and not just at weekends.
Ana María Almario presented the logic of participation in Bogotá, which calls for the role of local governments in the protection of rights and the renewal of democracy at the local level. She also thinks of inclusion and a concept of advocacy that includes the will of citizens to transform. She recognises the potential of citizens to become activists and to raise awareness of inclusion.
Ana María Almario presented the "pactando" initiative: a space for listening and resolving conflicts between citizens and district institutions. "Inclusive dialogue allows us to define what the local problems are and how, by listening to diverse voices, we can identify approaches to address these challenges. Bogotá has developed 15 pacts, which help to strengthen democracy as an exercise in compromise. In this process, citizen participation is used to determine priorities for public works and neighbourhood improvements and territorial transformation.
Juan Speroni Hernández, explained how the city of Buenos Aires is trying to create spaces for participation to bring democracy closer to everyday life and bridge the gap between neighbours and government spaces. The city believes in participation as a way to promote the accountability of leaders in the first place. It also helps to convey priorities and smooth out conflicts, which occur daily in big cities. He explained that although the pandemic caused unease, it was a learning experience: it was used to channel citizen participation into a plan for the future. 3 levels of depth were designed where the city's neighbours were invited to participate. First of all the intervention themes were prioritised. Then we focused on co-creation, looking at concrete actions. Finally there was a vote on the ideas that had emerged. The focus was on inclusion and dissemination, both online and at territorial level. He concluded that since Buenos Aires they are committed to setting up spaces for co-creation.
Joseph Tchinda-Kenfo began by presenting the Office de consultation publique de Montréal (OCPM), an independent organisation that has existed since 2002 and whose work is based on three principles: credibility, independence and accessibility. He explained how during the pandemic, their objective was to preserve the credibility of different consultation processes. "We faced major challenges: health standards and measures that prohibited gatherings, the impact of the pandemic on stakeholders, community organisations and citizens' priorities, how to estimate the share of the population that had the tools to participate online, and how to maintain the quality of contributions and the credibility of institutions, linked to the importance of deliberation and listening to others''. He illustrated that in order to know how to integrate digital tools for remote participation, they assessed the expectations of the population in March/June via a questionnaire, telephone interviews and focus groups. They implemented the Covid method, a hybrid method: for each consultation, a postal kit was sent to those who requested it, to ensure the participation of those who did not have access to digital tools. "We diversified our methods, tools and information processes. We have seen a renewed confidence of citizens in the processes and the credibility of the institutions has been preserved," he concluded.
Ieva Cesnulaityte presented the OECD's work to map deliberative processes. This work has identified new forms of deliberative democracy and good practices. Governments at all levels have adopted these policies to address complex processes. Deliberative processes are based on small groups of residents mandated by public authorities to propose a solution to a complex problem. She presented several examples such as the Poznan process on climate. She illustrated the three criteria of the OECD report: representativeness, deliberation and impact. She explained that the OECD also maintains a database of deliberative policies that have developed in recent years. The report also highlights how all spheres of government have used this process. Such measures can help policymakers address complex issues outside the political cycle. The climate debate is a clear example.
Katey Tabner illustrated how local governments in Scotland are trying to work towards mainstreaming participatory budgets. Such interventions cover different thematic areas and have been developed by many local governments. The total amount spent on participatory budgeting is increasing. The Scottish Local Government Association (COSLA) has been pushing for democratic innovation in general, rather than supporting specific time-bound interventions. It has set up support boards and provides additional support to local officers. The intention is to extend PB to the whole public sector. "Collective support for participatory budgeting is essential, as is the subsidiarity of local government. It is important to recognise the divergence of realities across Scotland's geography." She explained that since 2017 there has been an agreement to devote 1% of the total local government budget to PB. Some areas of PB are particularly valued by local communities, for example climate and public space. Legislative mechanisms are important to help local governments implement the PB and advance power sharing with communities.
Macarena Raya explained that several participatory projects are underway in the city of Rosario, but during the pandemic, changes were accelerated. "The government could not be left out of the great changes caused by the pandemicìì. She added: "We are convinced of the importance of networking with neighbours and neighbourhood communities. Indeed, 6,000 neighbours have participated in video calls to neighbourhood councils. "We need an ecosystem of participation that creates various mechanisms for neighbours to participate to varying degrees''. She concluded by presenting the acupuncture laboratories focused on very specific issues, responding to concrete urban challenges and promoting the construction of citizenship.
Miguel Cánaves, affirmed that the municipality, Rosario, is committed to open government, implementing elements such as monitoring citizen participation, promoting access to data and feedback, and strengthening climate action plans. "Together with the community, the aim is to review the accessibility parameters of the municipality's participation portal. We are moving from a participatory democracy to a citizen democracy". He added that "sometimes civil society organisations take over the participation spaces but it is necessary that the interlocutors are representatives of the citizens, so we are looking for a way in. We are also looking for new actors for the processes, who generate alternative visions. We ask those who do not think like us to participate, to include those who do not feel represented''.
Hanne Bastiaensen, presented the organisation Democratic Society, based in 12 European countries and gave an overview of some opportunities for the future of local democracy. "The local level is often the first to adopt new forms of participatory democracy. There is a long tradition of deliberative/participatory democracy mechanisms and practices''. She added "we need to move away from one-off events to a more sustainable and long-term engagement: we need to build a democratic infrastructure and culture". She presented an example of a city where a public space in a neighbourhood was designed: a process with a selected citizen panel as the backbone of the process, as well as with other engagement activities, including digital participation. The results are not only recommendations for policy makers, but also for people and their experience of public space. This is an example of how methods can be used in a process adapted to local needs. One of the challenges of local democracy is the process of long-term engagement, in order to address the complex challenges of today. "Climate assemblies, climate projects, but also migration, post-pandemic society, etc. will be the next challenges for local democracy. Partnerships are needed to address these complex issues we are facing today" she concluded.
At the end of the session the debate was opened: Anne Marie Chavanon asked for some clarifications about the cases of Brussels and Montreal, especially in relation to difficulties in the health context. Jonathan Moskovic, stated that one of the recommendations of the citizens is to foresee work periods as well as a permanent citizens' assembly that can be immediately mobilised during these ordinary periods. Joseph Tchinda-Kenfo said that the particularity of the OCPM is the fact that it is a permanent entity, enshrined in the Montreal Charter. The Office has adapted its processes in line with the health measures, and in particular the ban on gatherings, which meant that during the crisis, they tried to adapt differently by organising, for example, open-air meetings, etc. He specified that the OCPM does not take on projects on its own: it is the city that asks to work on certain projects. He also said that there is a right of initiative, which allows citizens to request a consultation on a planned subject, and if 15,000 signatures are collected, the office is obliged to organise a consultation. He added that Montreal's urban plan needs to be reviewed, along with the mobility plan (both are grouped in the City Plan), and the office has been mobilised on this. He concluded by noting the importance and interest of many of the initiatives presented at the session.
Adrià Duarte, coordinator of the OIDP, closed the session by thanking the participants and assuring the OIDP's readiness to work as a space for exchange and the creation of ideas for rethinking cities and democracy.
This session highlighted the role of local and regional governments in the deployment and promotion of democratic institutions and channels such as deliberative assemblies, citizen councils, participatory processes, plans and strategies. Due to their proximity and flexibility, local governments have the opportunity and responsibility to develop these institutions to strengthen dialogue with and among citizens, generate community and defend the political rights of their inhabitants. We must therefore advocate that local and regional governments have the necessary autonomy to be able to implement these institutions of local democracy and decentralized cooperation as a way of promoting and disseminating them.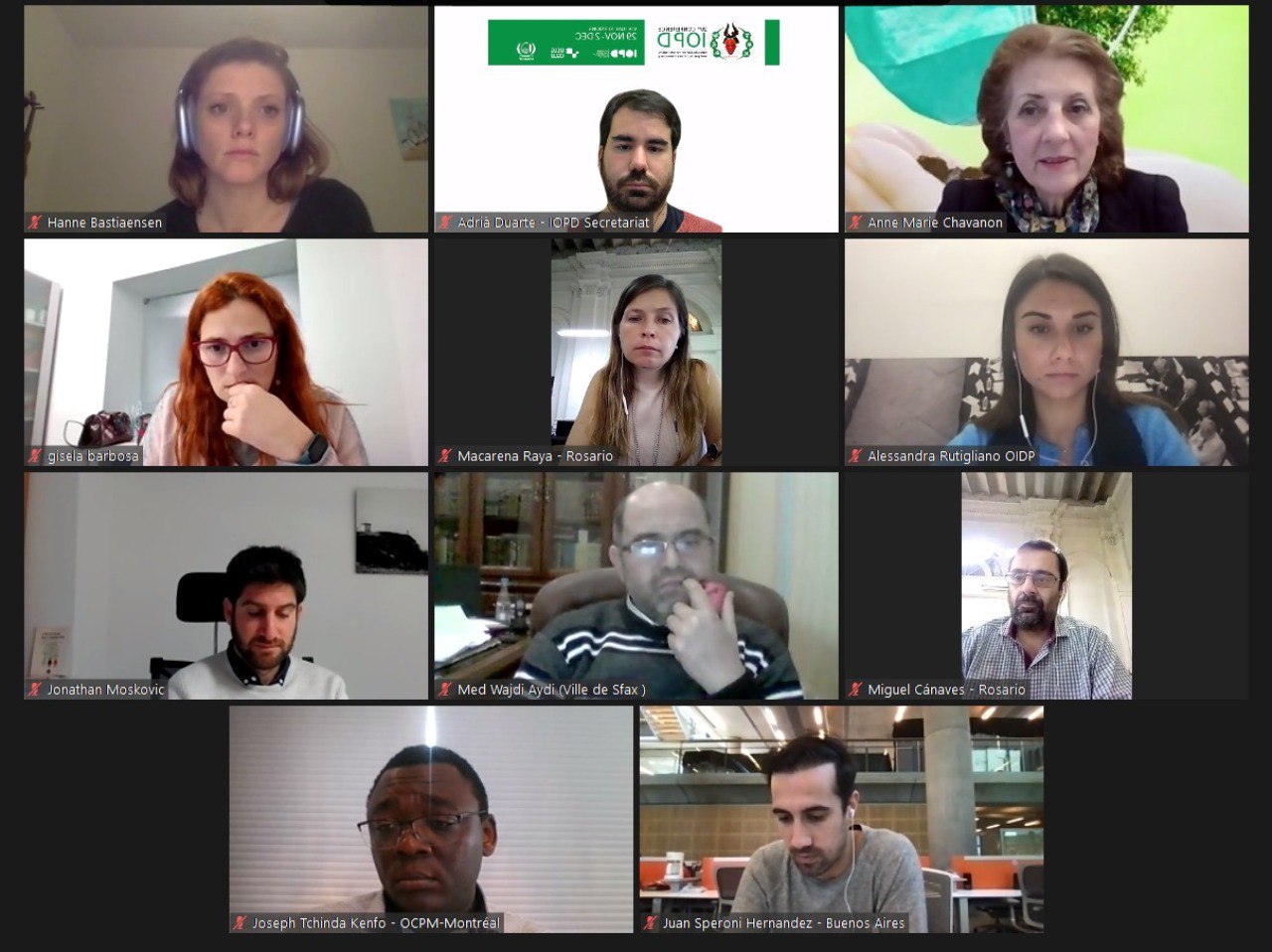 More information
Antioquia:
Agenda 2040 https://agendaantioquia.com/
Barcelona:
Barcelona Youth Forum https://www.decidim.barcelona/processes/forumjoveBCN?locale=es
https://ajuntament.barcelona.cat/joves/es/noticia/se-prepara-el-foro-joven-bcn-una-asamblea-deliberativa-de-jovenes-para-mejorar-su-futuro_1072843
Bogota:
Institute of Participation and Community Action https://www.participacionbogota.gov.co/
Bordeaux :
Brussels :
Buenos Aires
Scotland
Montreal
New Taipei
Rosario
Utrecht
OECD
Presentation by Ieva Cesnulaityte (PDF)
Democratic Society